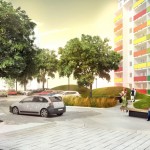 One of the basic benefits of the Letňany lentils project is an increase in the number of parking spaces. Every original panel housing estate from the 70's and 80's has a lack of parking spaces, and therefore this issue is much discussed during the project preparation. Designers are looking for literally every meter that could be used as a parking space.
The very busy car park at the Místecká x Krausova x Nýdecká intersection was changed to a green area in the first version of the Lentilek study. However, the town hall listens to the needs of the inhabitants of Letňany, which is why the car park has returned to this place in future versions of the project.
Architects and designers have prepared 3 variants of the solution of this space. Councilor Jan Mikulecký organized a meeting with representatives of SVJ Místecká 567-569, where parking was one of the topics. Representatives of SVJ expressed support for variant B, which changes the axis of the parking lot. At the same time, it was agreed that the "hills" in front of the house would be lowered so as not to obscure the cars when viewed from the lower floors.
Update 9/7/2012: The change of the car park axis is only conditionally approved by the Police of the Czech Republic. As part of the construction procedure, the exits to Místecká Street will be assessed in detail and it is possible that the axis of the car park will remain the same as at present. The surroundings of the parking lot, greenery and hills are the same for both variants and everything will be realized in accordance with the design.
Update 9/5/2013: The axis of the car park in front of the house 567-569 will be maintained according to the requirements of the Police of the Czech Republic, more here.