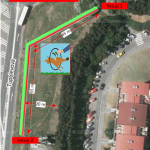 The empty space between Tupolevova Street and Malkovského Wall will be used as a dog meadow. The city district has land leased for 20 years. Land owner CPI Byty a.s. agrees with the implementation of the plan. After the holidays, the Letňany dogs will have another option for a paddock and other activities on an area of more than 2,000 m2.
A protective fence will be built at Tupolevova Street to keep dogs safer. Agility elements will be installed in the meadow: jump, jump with a board, sloping wall, circle. The area is still widely used by dog breeders and now this area will be more safe and will offer opportunities for active walking of pets. After the Fryčovická and Příborská meadows, another area will be created for active walking of dog pets.
Update 15/10/2013: The original intention was reconsidered and the dog space was opened without a fixed fence. The installation would require a complex building permit, the acquisition of which would not be cost-effective.