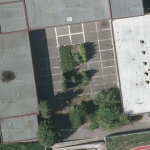 During the summer holidays of 2013, the atrium in the Fryčovická primary school will be completely changed. Following an agreement with the construction company JUMAR, which will carry out the work as a sponsorship gift, the old asphalt will be removed and the schoolchildren will now spend breaks on the green grass. Part of the fixed area will remain for occasional school events, a few meters of new sidewalks will be added. The current greenery will be completely reclaimed.
The atrium at the school is 30 years old. Destroyed asphalt and unmaintained greenery is not an ideal space for schoolchildren to spend their free time. Therefore, an agreement was reached with JUMAR and the atrium will be completely renovated as part of the sponsorship contribution. The new interior of the school will be a great addition to the Fryčovická Snake Trail and, overall, will fit well into the Letňanské lentilek project, which will restore complete public areas in the housing estate in the coming years.
It is right that the companies involved in revitalizing housing estates are giving something back. Letňany City Hall greatly appreciates the decision of Mr. Rulf, the CEO of JUMAR, to give the Fryčovická Primary School a sponsorship gift of CZK 500,000. Certainly other companies operating in Letňany will join. It should be added that in May and June, the children left Malkovského Kindergarten and the Fryčovická Primary School group to the Mirakulum Children's Park. Thanks to sponsorship donations from Park Mirakulum and the company Výthahy Praha, children had free entry and transport.