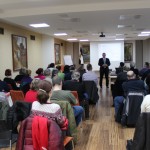 On Tuesday 5/3/2013 another seminar on revitalization of prefabricated houses took place. Experienced members of SVJ committees acquainted their colleagues with the already completed reconstructions of houses. Special thanks go to Nikol Řehounková and Radek Vybíral, who are the chairmen of SVJ in Malkovského street. Jan Mikulecký, the councilor for the regeneration of the housing estate, confirmed that the town hall supports the renovation of houses in the entire Letňany housing estate.
Questions from the audience covered the whole issue of revitalization and also touched on the overall approach to house management. Specific examples of revitalized houses were presented, through which the participants were acquainted with the financing of revitalization, possible subsidies, how to make the right tender, what not to forget during the construction and the like.
In recent years, a number of apartment buildings in the housing estate have received new elevators and insulation. These jobs would not be possible without the commitment of people who do not care what environment they live in. Many thanks to all SVJ representatives who want to do something new in their house. They are the ones who significantly contribute to the restoration of the housing estate and the creation of a beautiful space for life.
Other questions concerning the revitalization of houses can also be directed to the address mikulecky@letnany.cz.
Presentation: Seminar on the revitalization of apartment buildings 2013