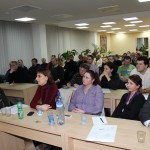 In February 2012, a seminar on the revitalization of prefabricated houses took place. Experienced members of SVJ committees acquainted their colleagues with the already completed reconstructions of houses. Jan Mikulecký, Councilor for Regeneration of the Housing Estate, confirmed that the renovation of houses in the housing estate has great support from the town hall, especially in the context of the Letňanská lentilka project.
In recent years, a number of apartment buildings in the housing estate have received new elevators and insulation. Reconstruction of houses would not be possible without the commitment of people who do not care what environment they live in and are trying to change it. These people, usually members of the SVJ committees, have prepared a seminar for all those who are preparing for revitalization and collecting introductory information. The advice of the more experienced ones mainly concerned financing, subsidy programs and tenders, however, other issues were discussed, including the preparation of the SVJ assembly, construction supervision, etc.
As the interest in the revitalization of houses is huge and there are still almost half of the houses in the housing estate with the original facade, the seminar will take place again in March, so that even new and undecided SVJ representatives can get acquainted with the experience of their colleagues.
Invitation to a seminar on revitalization
At the seminar, you can meet those SVJ representatives who went through the whole process and advise you:
– how to finance the project (specific case of the finished Letňany block of flats)
– which companies to choose
– what questions arise at owners' meetings
– what can be done and how to revitalize
– how to get subsidies
The seminar will also have the opportunity to learn news about the Letňany lentils project.
Date of the seminar: 5/3/2013 18.00 – 21.00
Venue: ceremonial room of the Prague Letňany district