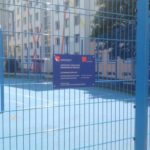 Since the completion of Lentilek last year, some residents have complained of high noise levels on the blue sports field near the house in Místecká Street. "Although the proposed fencing technology contained a number of anti-noise elements, reality has shown that the ball strikes the fence panels generate an unpleasant ringing sound," says councilor and deputy Jan Mikulecký.
Experts from the playground supplier, together with town hall staff, tried several ways to reduce noise. "We have added additional rubber mounts to reduce the vibration of the fence, and we have examined whether the anchoring of the columns or the compaction of individual parts will affect the noise," describes Jan Mikulecký. In the end, a stronger anchoring of the fence panels to the columns in the space from the gates helped.
Noise is currently acceptable and corresponds to the noise level in ordinary playgrounds. It is necessary to realize that the noise on the playgrounds is generated not only from the ball hitting the fence or other barrier, but also from the children themselves. However, this will not be solved by any additional rubber protection on the fence. "The joy of the children from Lentilky is great and that is why they make it very clear. Let's get used to it, because Lentilky is full of life," adds Jan Mikulecký, a representative and member of the Prague 18 Letňany district council.